Fender seats form a stylish and practical addition to wood burners, as well as traditional open fireplaces:
Style – they help to add more 'design' to the wood burner, accentuating it as a feature, adding colour and richness to what can seem at times like a 'large black lump of iron'!
Practicality – cosy up to your wood burner in the cold winter months, making full use of the comfortable seats!
Safety – help prevent young children (and visiting adults!) from burning themselves, since the enclosed wood burner is not seen as an obvious hazard compared to an open fire (note: we still recommend all children are carefully supervised in any room with an open fireplace or wood burner)
Because we custom design and manufacture our fender seats here in the UK, we can take full account of the actual wood burner you use and how it is situated. For example, in small spaces a gap might need to be designed in to allow the front of the burner to be opened and kept fed with wood; and because of the lack of any potential 'spitting' you might consider a wider range of fabrics to enhance the design. Get in touch to discuss your requirements.
See some example photos of Fender Seats for Wood Burners below: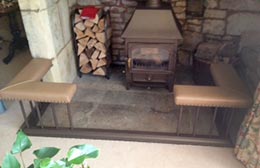 Matched painted fender – wood burner
Ref: WOOD008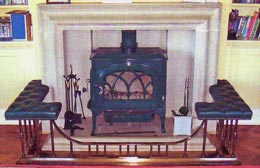 Antiqued brass fender – wood burner
Ref: WOOD009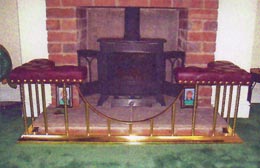 Antiqued brass fender – wood burner
Ref: WOOD007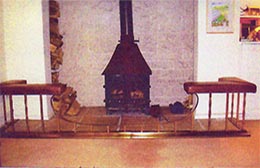 Antiqued brass fender – wood burner
Ref: WOOD008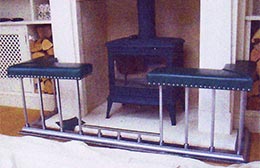 Brushed steel fender seat – wood burner
Ref: WOOD005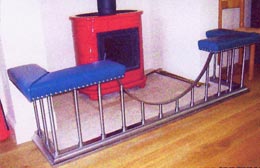 Brushed steel fender seat – wood burner
Ref: WOOD006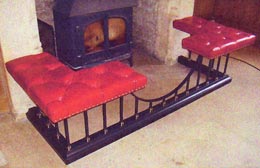 Burnished steel fender seat – wood burner
Ref: WOOD003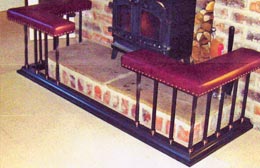 Burnished steel fender seat – wood burner
Ref: WOOD004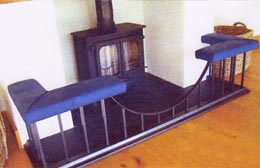 Burnished steel fender seat – wood burner
Ref: WOOD001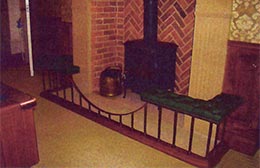 Oak base & steel uprights fender seat
Ref: WOOD002