Styles of Fender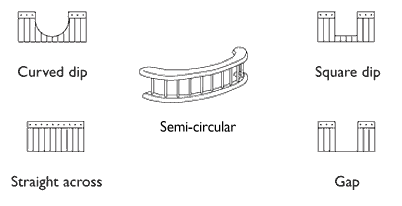 Frame Material
We offer a choice of brass, copper, bronze, metal and wood or any combination of these.
Brass, copper or bronze – antiqued or polished.
Steel – brushed is a silvery polished steel, burnished is a gun metal dark grey or black painted in satin or matt
Wood – Oak, Mahogany or Pine – stained to customers requirements.
Base specification
Brass/Copper/Bronze/Steel – formed base (curved with radius)
Normal size base – 3 1/4″ wide x 2 1/4″ high
High base – 3 1/2″ wide x 3″ high
In addition box sections or bases of other heights and widths can be made.
Wood – solid laminated or scalloped – to height and width required.
Uprights, collars and turnings
Uprights can be in various sizes (5/8″ to 1″) and are square, round or twisted.
In addition, for brass, we offer roped and reeded uprights.
Collars in brass, copper, bronze or steel, usually fitted at base of the upright. Turnings usually centrally mounted.
Seats
Normally 7″ wide, but can be made to the width required and covered in leather in the colour of your choice, plain or deep buttoned. Seats are also upholstered in fabrics supplied by either the customer. Decorative studding, piping etc. as required.
Infill plates
If there is to be a gap between the inside of the fender base and the hearthstone we will fit an infill plate and attach it to the base to protect
the carpet or floor from sparks and hot ashes.
Spark guards
Brass or steel guards can be fitted to the inside of the seats to protect the leather or fabric from the heat of the fire.
Surface finish
All fenders are treated with clear lacquer at no extra cost to provide protection against tarnishing. Please use non-abrasive polish on this surface. Normally only a duster is required.
Please note there is no protection for damage by steel heel caps or sharp objects.
See our glossary for an explanation of terms used to describe fender seat styles, finishes & design options.