A low fender provides an attractive finishing to your fireplace and can be accommodated in most homes.
All our low fenders are made in our own workshop to your size and specification. They can be finished in steels, satin black, brass, copper or bronze. These last 3 can be antiqued. Samples available on request.
Please contact us to discuss your requirements.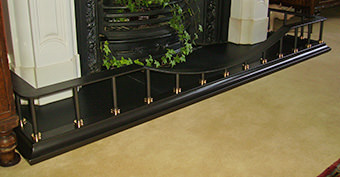 Low Level Fender in Burnished Steel with Solid Brass collars.
Ref: LOW008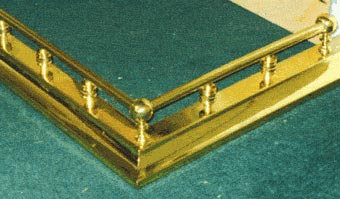 Solid Brass low fender – bobbin fender polished and lacquered
Ref: LOW009

Black low fender – 5 ball continuous rail in roped brass polished and lacquered
Ref: LOW007

Brushed Steel low fender – 5 ball square rail and posts
Ref: LOW008

Solid Brass low fender – 6 ball continuous rail polished and lacquered
Ref: LOW005

Burnished Steel low fender – 6 ball broken rail in antiqued and lacquered plain brass
Ref: LOW006
Brushed Steel fireside fender – Brass scrolls
Ref: LOW003

Solid Brass (antiqued) low fender – 6 ball broken roped rail
Ref: LOW004

Satin black/Brass fireplace fender – fine mesh/scrolls/finials
Ref: LOW001

Mahogany base low fender with antiqued copper five ball continuous rail
Ref: LOW002