All Fender guards are made to measure and of the same high quality as our bespoke fender seats but instead of having seats, the top is usually finished with a plain or decorative top rail. Customers may choose the style and materials of their fender guard and may even chose to have a slide out panel to give easy access to the fire.
So what next? Firstly we suggest you print off the measurement form, then, once you have decided what you want, and measured (a photo of your fireplace is useful too) contact us by email, phone or post and we will prepare a quote and draw up a ground plan for you.
The photographs below are just a few examples of fenders we have made.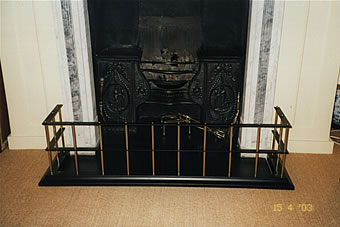 A fender guard with a Burnished Steel base, central & top dividers also in burnished steel with round 5/8″ uprights and small round finials in dulled brass.
Ref: GUARD003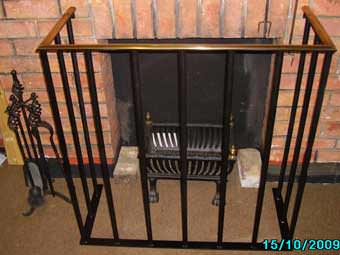 A fender guard in Burnished Steel with 3/4″ round uprights and a top bar in convex antiqued Brass.
Ref: GUARD004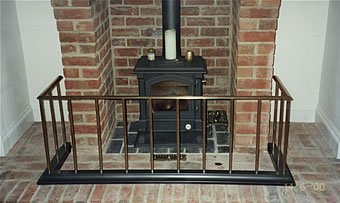 A fender fireguard with a Burnished Steel base, 5/8 " uprights and convex top bar in antiqued brass.
Ref: GUARD001

Burnished/Solid brass fender guard with central opening gate.
Ref: GUARD002