With our range of traditional cast iron firebacks, there is something to fit the smaller fireplace opening through to the larger inglenook.
Most of the firebacks are copies of authentic originals, some of which date back to the seventeenth century, and are ideal for those trying to maintain the historical charm of an old inglenook.
The Large Royal Oak fireback is probably the largest fireback now available within the UK.
Other styles and shapes are available.
PLEASE NOTE: The firebacks are particularly heavy, therefore in the interests of your health, and safety, we recommend that 2 or 3 people are used to lift or move them.
Please call for prices

So what next? Just contact us by email or phone to complete your order.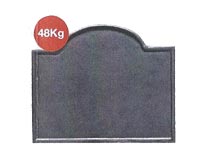 Plain
35129 W:615 H:510mm (24.25 x 20")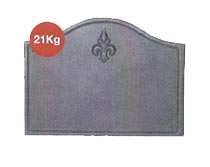 Fleur-de-lys
27108 Height: 570mm (22.5")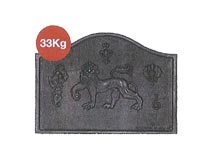 Lion
35224 W:595 H:420mm (23.5 x 16.5")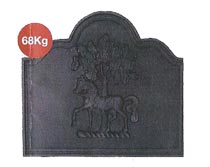 Horse Chestnut
35158 W:760 H:660mm (30 x 26")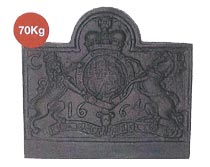 Lion and Unicorn
35126 W:750 H:665mm (29.5 x 25")
Royal Oak Large
35124 W:1075 H:840mm (42.25 x 33")